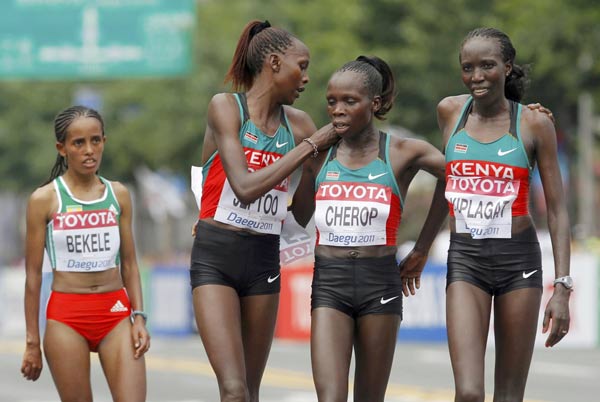 Kiplagat (r), Keptoo (l), and Cherop (c) after taking gold, silver, and bronze in women's marathon in Daegu (photo by China Daily)
Over the last few years, as East Africans, particularly Kenyans and Ethiopians, have absolutely dominated distance running, there have been many, many opinions about why. The opinions range for
nature to nurture
and
humourous to serious
— their genes are better, they run fast because they think that's how they should run, they ran to school as kids, they live and train at high altitude,
lions
. Even I've written about this before — see this post:
East African Runners
.
In the recently completed World Championships in Daegu, S Korea, Kenya once again dominated at many distances from 800m to marathon — 17 medals to end up 3rd in overall medals. And, they did not get any medals (may not have even had entrants) in field events. One European competitor was quoted as saying that it was impossible to beat the Kenyans. Upon their return to Kenya, the local national newspaper,
The Daily Nation
, did a 2-page spread on their success and included an article about why they are so successful. I could give you the link to the article but you'd have to subscribe to the online
Daily Nation
to read it. If you're interested in reading the whole article, you can download it from my personal Dropbox files:
We Are So Good Because We Train A Lot
.
The runners and coach stated several reasons for Kenyan success:
Vivian Cheruiyot, gold in the women's 10,000m race, leading a 1-2-3 finish by Kenyan women: ...the secret to our success is...teamwork.
Peter Mathu, Kenyan head coach: ...a range of factors...powerful work ethic...running from a young age...they train al lot, they are training from January up until December...competing all over the country...traditional method of training...high-altitude country...most athletes have come from a tough background...we have just been there...we also try hard, we work hard.
Well, as the British would say,
Bob's your uncle!
— in their own words.
Clipping from
The Daily Nation
showing the Kenyan medal winners:
The glorious men and women who did us proud in Daegu
(PDF file).
Look out, world. Coach Mathu is predicting they will be even better in the Olympics next year and then in the 2013 Moscow World Championships!
As for my own running — well, I may live at high altitude in Kenya, but I sure don't run like them. Monday morning, I left at 5:30AM to run. Had to run early because of a meeting starting at 8:00. Well, I had a headlamp, reflective vest, knew the route like the back of my hand, etc. Still, I managed to step on the edge of the road or in a hole and turned my ankle pretty badly. After a couple of minutes of cautious testing, it didn't hurt badly. So, I finished the run and ran the 3.4 miles faster than I've done it in several weeks — 9:14 mpm. My wife said it was because every time I stepped on the injured foot, I got my weight off of it quickly. But, when I quit and got ready for the meeting, OUCH! I
'iced
it: No 'R'est, but I Iced, Compressed, and Elevated before and after the meeting and for the next couple of days; I took Ibuprofen for 3 days. It's better. So, hoping to be back on the road tomorrow morning.
Run well, y'all,
Bob, Nairobi